Mac mini (M2 Pro) review: Nice upgrades that don't quite justify the price
At a glance
Expert's Rating
Pros
Small and silent
Nice improvements to display output options
M2 Pro is fast
Cons
Too expensive for what you get
No design improvements (like front-facing ports)
Our Verdict
The upgrade to the M2 Pro, as well as display output and wireless upgrades, made this more than a worthy successor to the aging Intel-based Mac mini. But the price is just too high, and anyone who doesn't choose the base model would be better off with the Mac Studio's least expensive option instead.
Price When Reviewed
1,299
Best Prices Today: Mac mini (M2 Pro)
1299
Not Available
Not Available
And then there was one.
With the introduction of the new Mac mini, Apple officially sells only one Mac that still uses an Intel chip–the Mac Pro. While the low-end Mac mini got an upgrade to the M1 processor just over two years ago, Apple continued to sell the 2018 Intel-based model as a more expensive option. Apple has now updated the low-end model to the M2 and replaced that Intel-based model with a new M2 Pro Mac mini.
The M2 model gained Wi-Fi 6E and Bluetooth 5.3 and has been reduced in price from $699 to $599. It's a fine entry-level system. The M2 Pro model adds two additional Thunderbolt 4 ports (for a total of four), upgrades the HDMI port to HDMI 2.1 (bringing support 4K at 240Hz and 8K at 60Hz), and of course, has a more powerful processor. It starts at $1,299, a $200 increase over the outdated and now-obsolete Intel-based model.
That $1,299 entry-level price gets you a cut-back version of the M2 Pro that has only a 10-core CPU (6 performance cores, 4 efficiency cores) and a 16-core GPU. To get the full M2 Pro with 12 CPU cores (eight performance, four efficiency) and 19 GPU cores, you have to pay an extra $300.
You'll also get only 512GB of storage in that $1,299 model, which is a bit on the low side for that price. The jump to 1TB costs another $200. Add those two minimal upgrades together and you're looking at $1,799 for the full M2 Pro, 16GB of RAM, and 1TB of storage. That's the configuration we tested here.
M2 Pro Mac mini: A few upgrades, but no design changes
It's nice to see Apple jump aboard the Wi-Fi 6E bandwagon with its new Mac minis, and the upgrade to Bluetooth 5.3, while not currently being used for anything you can't do with Bluetooth 5.0, is a nice bit of future-proofing. Even better is the M2 Pro version's two additional Thunderbolt 4 ports, for a total of four, and HDMI 2.1, which supports resolutions of up to 8K at 60Hz or 4K at 240Hz. However, keep in mind that resolution and refresh rate start to become limited if you hook up two Thunderbolt displays at the same time. The maximum is three displays, two Thunderbolt 6K at 60Hz, and one HDMI 4K at 60Hz.
Jason Cross / Foundry
But that's where the upgrades end. The rumor mill teased a design refresh that we didn't get, and while it doesn't necessarily need one, some colors like the M1 iMac would have been nice. We'd even just take a Space Grey option, but no, the only available color is still silver.
Worse, we've been spoiled by the completely sensible decision to put a couple of USB-C ports and an SDXC card slot on the front of the Mac Studio. That's the kind of user-friendly update we would have liked in a new Mac mini, and it feels weird that it's not there.
M2 Pro Mac mini: CPU performance
The jump from Intel to Apple Silicon is notable, but you'd be crazy to compare the old Intel Mac mini to its replacement. That system hadn't been updated in over four years, and its best processor was a Core i7-8700B. That's a mobile-oriented CPU from Intel's 8th-generation Coffee Lake architecture, which wasn't even all that new at the time (the latest is the 13th generation!). You can find an old review of that system here, and marvel at how Apple hasn't made a meaningful design change since around 2010.
If you're curious how the regular M2 version of the Mac mini performs, we didn't have one to test, but the M2 MacBook Air is probably very similar in performance. Refer to our M2 MacBook Air review for those numbers.
Let's start with that mainstay CPU performance benchmark, Geekbench 5.
Apple promised up to 20 percent better CPU performance with the M2 Pro and M2 Max, and at least in multicore Geekbench 5 tests, they more or less nail it. Chalk that up to having four efficiency cores instead of two as in the M1 Pro and M1 Max, along with tweaks to clock speeds. Single-core performance is about 10 percent better.
Moving on to Cinebench (which uses the CPU for offline 3D ray-traced rendering), we see a similar situation.
One core is about 8 percent faster, while all 12 cores beat the 10-core M2 Pro and M2 Max by roughly 20 percent.
The HandBrake video converter is a test of CPU performance or the specialized video hardware, depending on how it is configured. We transcode the 4K version of the royalty-free Tears of Steel video to H.265 using the CPU and the video encoders (the "VideoToolbox" framework version).
When using the CPU to encode, we handily outpace laptops that get hot and throttle but are only around 10 percent faster than an M1 Max. When using the video encoders, that speeds up to around 18 percent faster.
And it's not a CPU test, but this is as good a place as any to put the results of a quick storage benchmark. The Blackmagic disk speed test is a simple quick free test anyone can run to measure read and write performance of their storage, aimed at video production needs.
The SSD performance has about doubled since the first M1 days but has remained in the 5-6 GB/sec range since. These are exceptionally good performance numbers; Apple does not mess around when it comes to storage performance.
M2 Pro Mac mini: GPU performance
Apple says the GPU is up to 30 percent faster than that found in the M2 Pro. Some of that is owed to architectural improvements such as cache improvements, and some is just because there are more GPU cores. In this case, the M2 Pro has 19 cores while the M1 Pro had 16.
There aren't a lot of high-end games for the Mac, and even fewer with good repeatable benchmarking tools. Still, it's nice to see Rise of the Tomb Raider running at 1080p with the High preset at well over 100 frames per second.
That's actually more than a 30 percent improvement, but CPU performance plays a factor here as well (especially since these are games optimized for Intel CPUs running with Rosetta translation). It's interesting how similar the M1 Max performs despite having 32 GPU cores, but these older titles with Rosetta translation are perhaps limited by CPU performance as well.
Geekbench has a GPU benchmark that stresses using the GPU for general-purpose computing (like face recognition or edge detection) rather than drawing 3D graphics.
The M2 Pro is about 20 percent faster here, but can't keep up with the M1 Max and its 32 GPU cores.
Our iMovie tests, in which we stabilize and export a 4K home movie, stress the video encoding hardware more than anything else, but the Stabilize function hits the Neural Engine and CPU pretty hard.
The M1 Max has two video encoding engines, so the M2 Pro can't quite keep up with its exporting speed, and the M2 Pro is similar in performance to the M1 Pro. But the faster CPU and Neural Engine in the M2 Pro make it faster than the M1 Max when applying the video stabilizing feature.
Should you buy an M2 Pro Mac mini?
The M2 Pro is about what we'd expect, performance-wise. Take the gap between the M1 and M2 and apply that to the M1 Pro and there you have it—a better Neural Engine, and usually somewhere between 10 percent and 20 percent better performance depending on what the limiting factors are. It's a nice upgrade from the M1 Pro and obviously a lot better than the M2. It goes without saying it absolutely smokes the Intel-based Mac mini it replaces, but that system was so old that we don't even use the same tools to benchmark it anymore.
If there's a problem with this system, it's the price. $1,099 was a good starting price for an upper-tier Mac mini, it's a real shame it went up by almost 20 percent with the new model to $1,299. With the lower-tier M2 Mac mini starting at a lower $599 price, the gap is bigger than ever.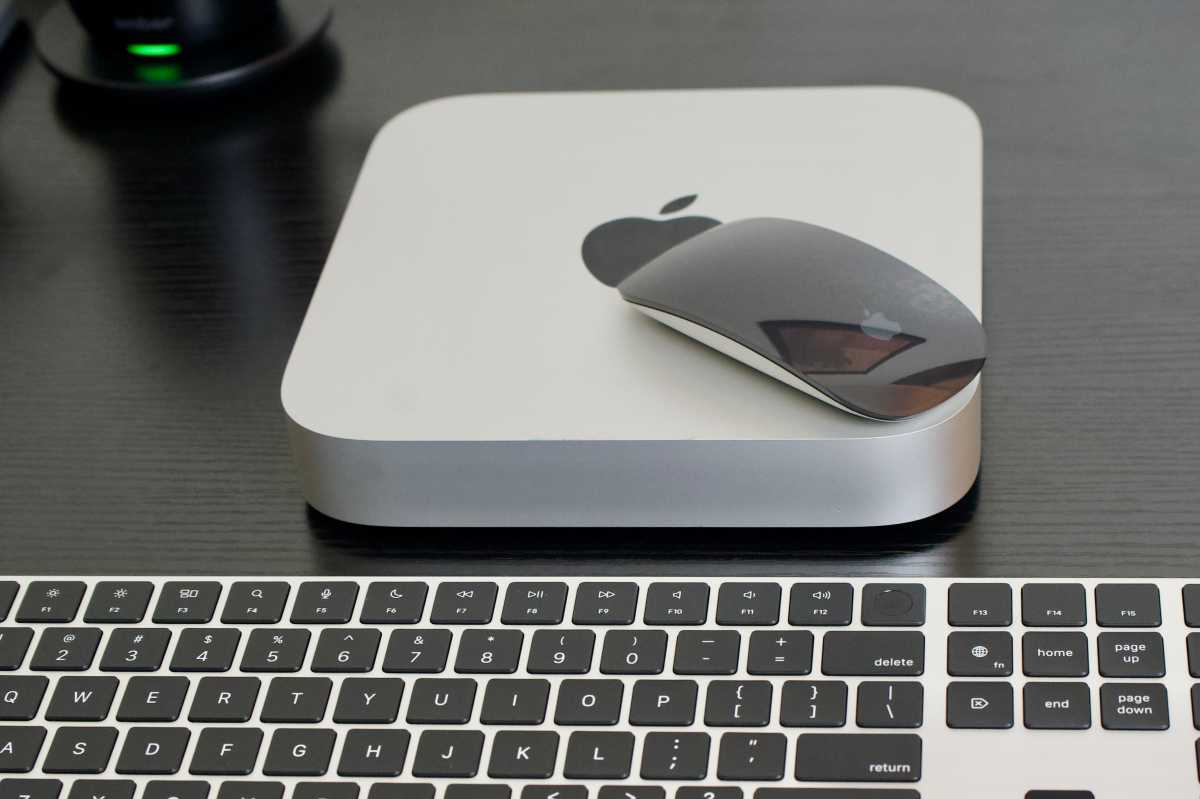 Jason Cross / Foundry
And anyone considering the M2 Pro Mac mini probably won't want the $1,299 model, which only has two CPU cores and three GPU cores disabled, along with only 512GB of storage. They'll want to jump up to the full M2 Pro for another $300 and a 1TB SSD for $200 for a grand total of $1,799.
Consider that the entry-level Mac Studio is $1,999 and has an M1 Max with a 24-core GPU, double the memory bandwidth, and double the RAM (32GB vs 16GB). Plus, it's got two USB-C ports and an SDXC slot up front. The only real advantage of the M2 Pro Mac mini is Wi-Fi 6E and HDMI 2.1.
Unless Apple drastically increases the Mac Studio price when it gets an M2 Max upgrade, that will definitely be the better buy. The starting price is just one issue; the other, as always, is Apple's exorbitant price on storage and RAM upgrades. Charging $400 to go from 16GB to 32GB of RAM, and $200 to go from a 512GB SSD to 1TB, is more than double the going retail rate for top-tier PC hardware. We're used to Apple charging a big premium for this stuff, but it's gotten way out of hand, and the fact that none of it is upgradeable and you have to buy what Apple sells you at its crazy marked-up price only makes things worse.
I mean, the 14-inch MacBook Pro with the same M2 Pro starts at just $700 more than the Mac mini and it's a whole laptop, with an HDR display, keyboard, trackpad, SDXC card slot, battery…
The M2 Pro Mac mini is a really nice machine. Super compact, silent, fast—a welcome replacement for the Intel-based model of yesteryear. Apple finally embraced Wi-Fi 6E and HDMI 2.1, too. The price represents a poor value, though, even among Apple hardware. Had Apple kept the $1,099 starting price and offered slightly more reasonable upgrade pricing, it might have been a different story. At these prices, however, either wait for a refurbished unit or spring for the Mac Studio.
For all the latest Technology News Click Here 
 For the latest news and updates, follow us on Google News. 
Denial of responsibility!
TechNewsBoy.com
is an automatic aggregator around the global media. All the content are available free on Internet. We have just arranged it in one platform for educational purpose only. In each content, the hyperlink to the primary source is specified. All trademarks belong to their rightful owners, all materials to their authors. If you are the owner of the content and do not want us to publish your materials on our website, please contact us by
email – 

[email protected]
. The content will be deleted within 24 hours.