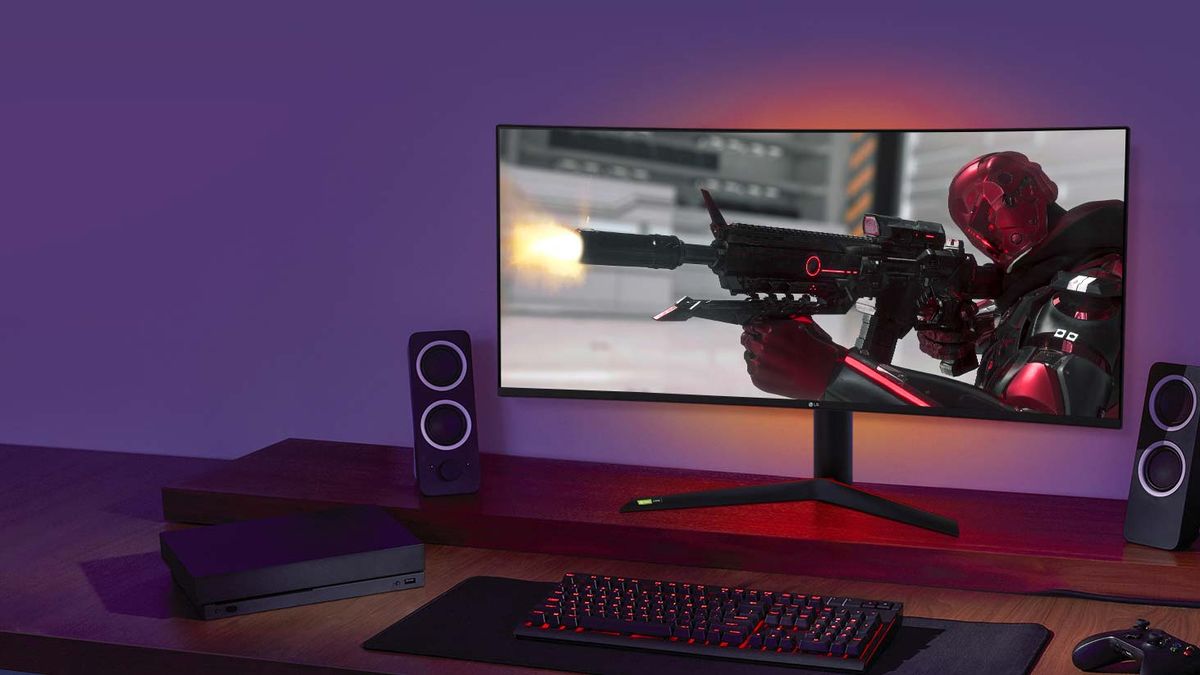 The best gaming monitors in 2021
The best gaming monitors can significantly improve your PC gaming setup. Think about it: What's the point of buying or building a superb PC and decking it out with fancy accessories if your games look subpar? The best gaming monitors can display crisp images, vivid colors, high resolutions and fast framerates, and they can do so with easy-to-navigate menus and tons of options to optimize gameplay.
To compile our list of the best gaming monitors we've researched some of the best-selling peripherals on the market to see which ones really deliver a gaming experience worthy of your PC or console. Our selections run the gamut from 1080p to 4K resolutions, and from 60 Hz refresh rates all the way up to 144 Hz — and higher. Whether you have an AMD or Nvidia GPU, there's a monitor on this list that can help you optimize your experience. Read on to find out how!
The best gaming monitors you can buy today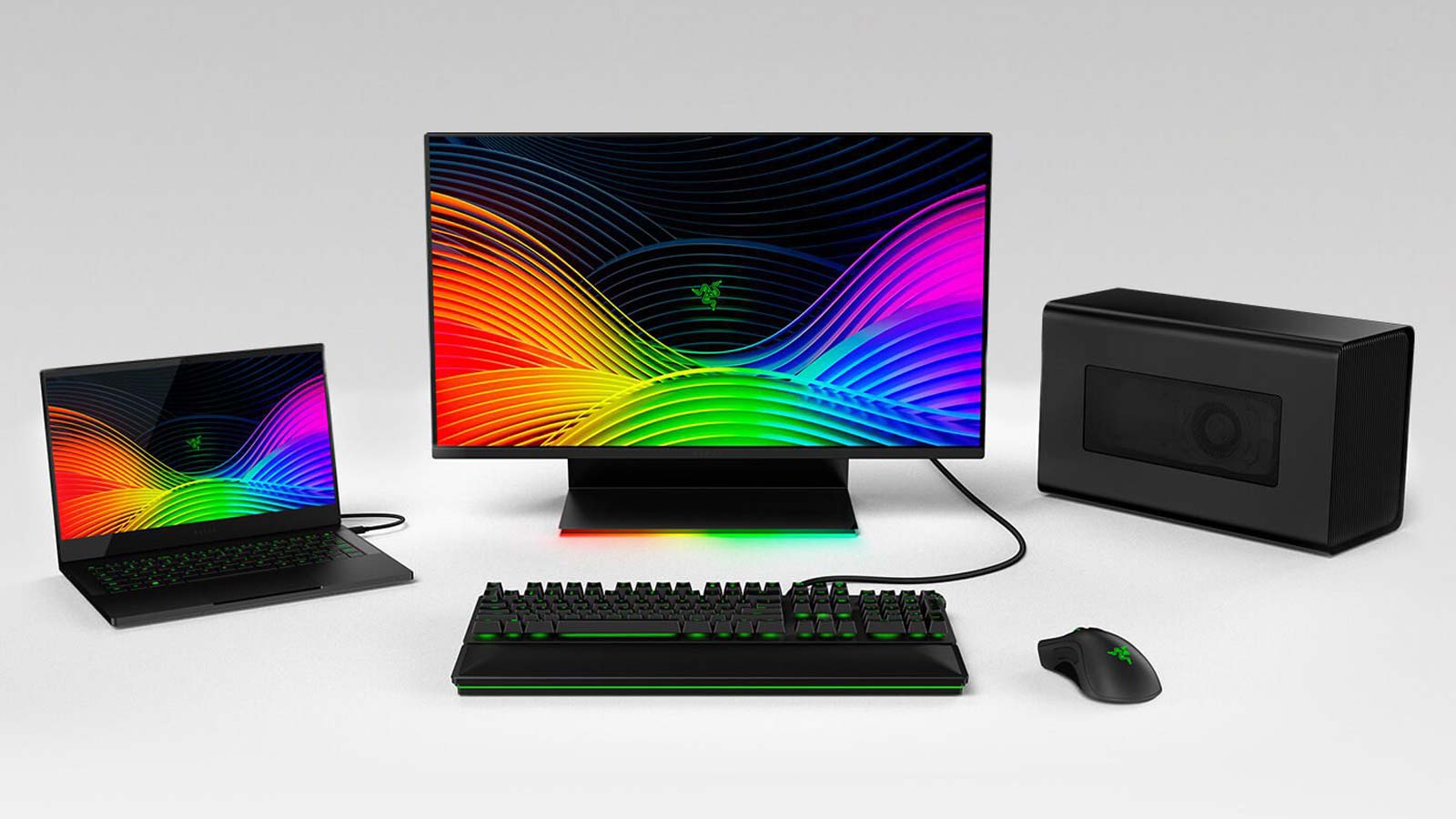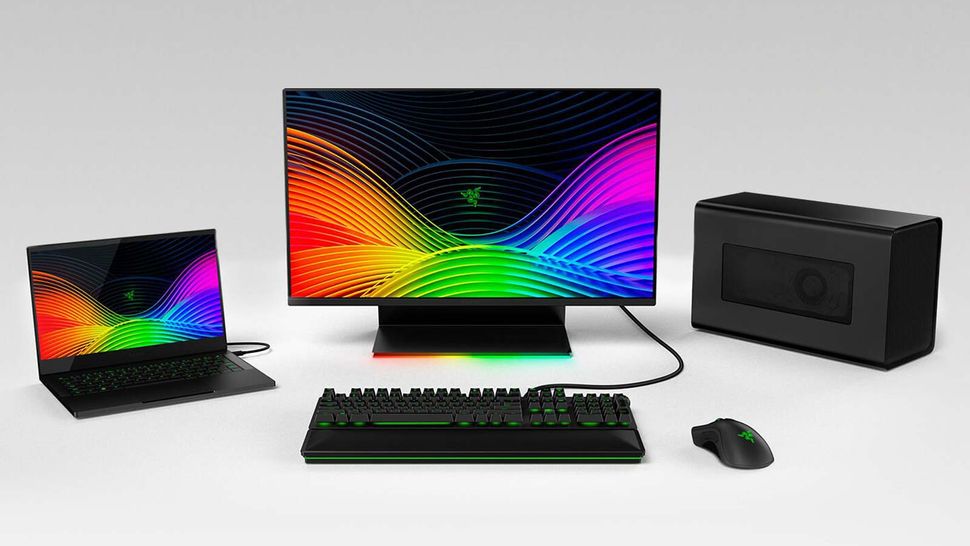 The Razer Raptor 27 is currently our pick for the best gaming monitor overall. This 27-inch screen displays gorgeous colors with stunning accuracy, at crisp quad HD resolutions. You can run games at more than 100 frames per second, thanks to the Raptor 27's fast 144 Hz refresh rate. At 2560 x 1440 pixels, the screen is high-res enough to display gorgeous images, but not so high-res that you'll need an incredibly powerful PC to make the most of it. In other words, it's a nearly perfect midpoint of performance and accessibility.
The only real downside to the Raptor 27 is that it's extremely expensive, especially compared to other quad HD monitors. But you're also paying for the monitor's excellent physical design, which makes the ports extremely easy to access, and the cables very simple to manage.
Read our full Razer Raptor 27 review.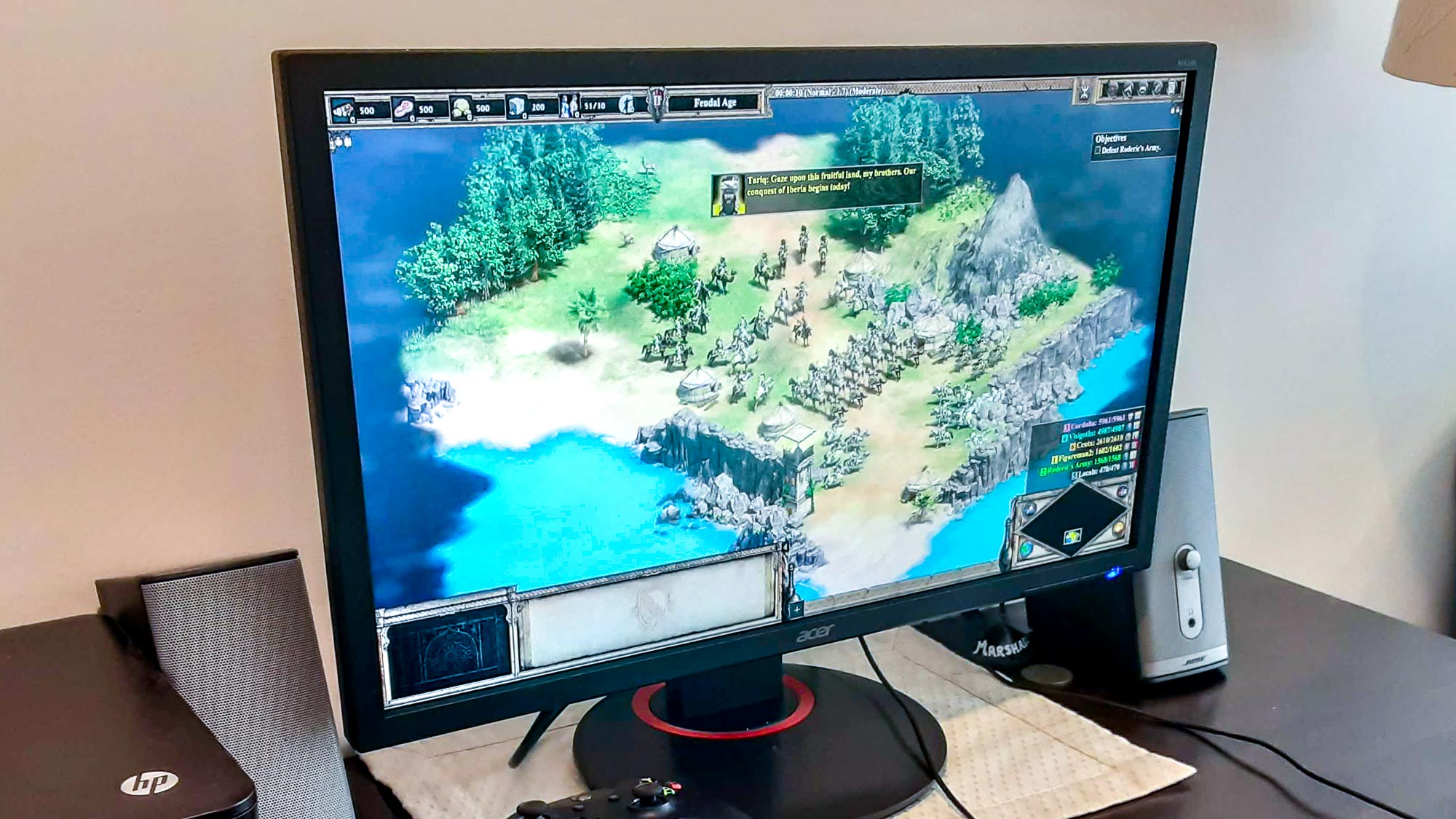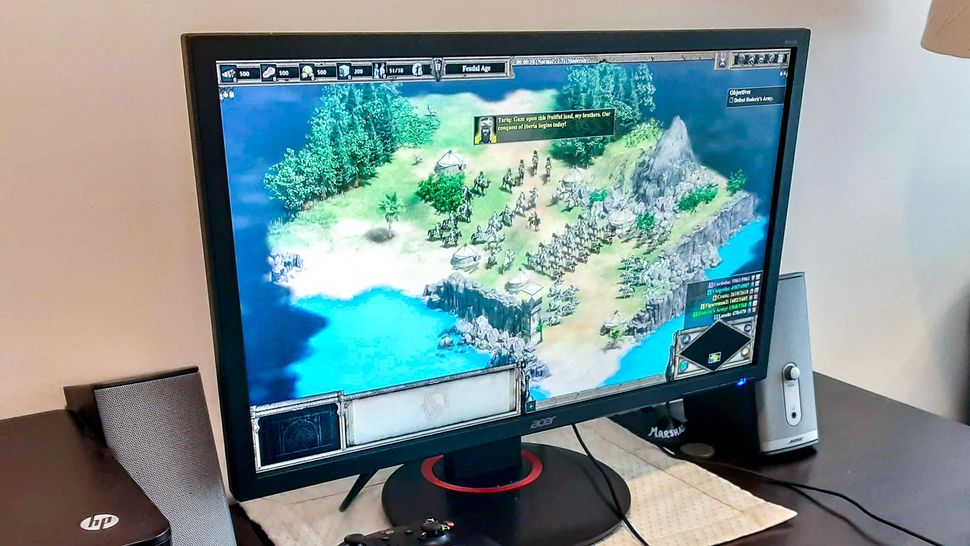 The Acer XFA240 demonstrates that excellent full HD monitors don't need to cost a ton of money. 
For less than $200, this 1080p monitor delivers accurate colors and more extra features than you'd expect, including a full vertical mode that makes it invaluable as a second screen. The monitor works well for both gaming and productivity, with a 144 Hz refresh rate and a variety of ports, including a DVI input for older machines.
The XFA240 has a few drawbacks, which are normal enough in its price range. Its built-in speakers aren't worth using, its menus are confusing and its construction feels a little cheap. On the other hand, it's more than worth its asking price, considering how well it displays games, and how pretty the colors are once you do a little tweaking.
Read our full Acer XFA240 review.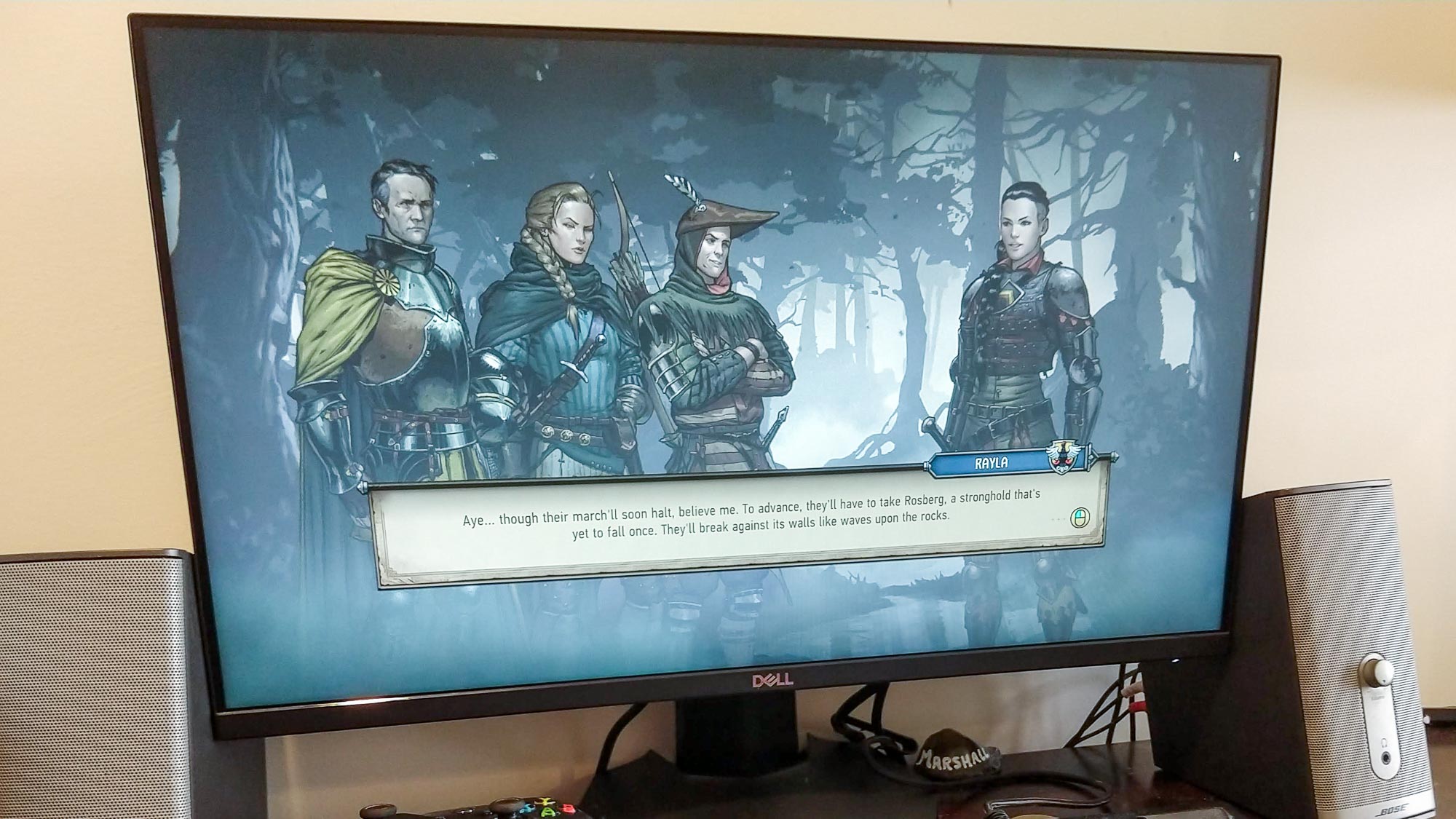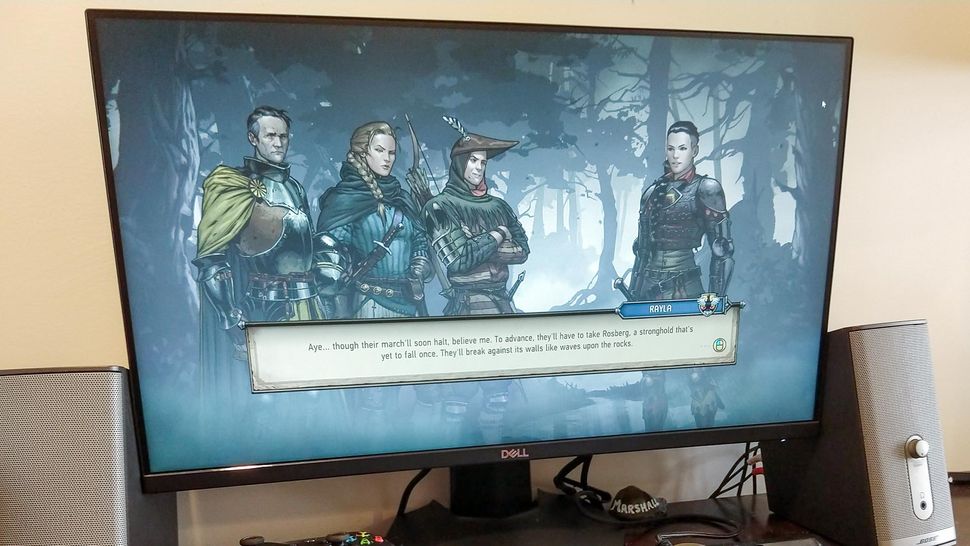 Dell produces rock-solid gaming monitors at every size and resolution. If processing power and desk space limit your monitor choices, the Dell 24 Gaming Monitor S2421HGF is a good choice, providing crisp 1080p resolution and a workable 144 Hz refresh rate. This is a no-frills gaming monitor, and the price reflects that, at less than $200.
Still, there's a lot to like about the S2421HGF, from its slim, space-conscious design, to its handful of pretty presets. The colors are admittedly not as accurate as they could be, and navigating Dell's monitor menus can be tedious, at the best of times. But not every gaming peripheral needs to be a top-of-the-line, bank-breaking accessory. If you want a small, solid, simple monitor that just works, the S2421HGF is the way to go.
Read our full Dell 24 Gaming Monitor S2421HGF review.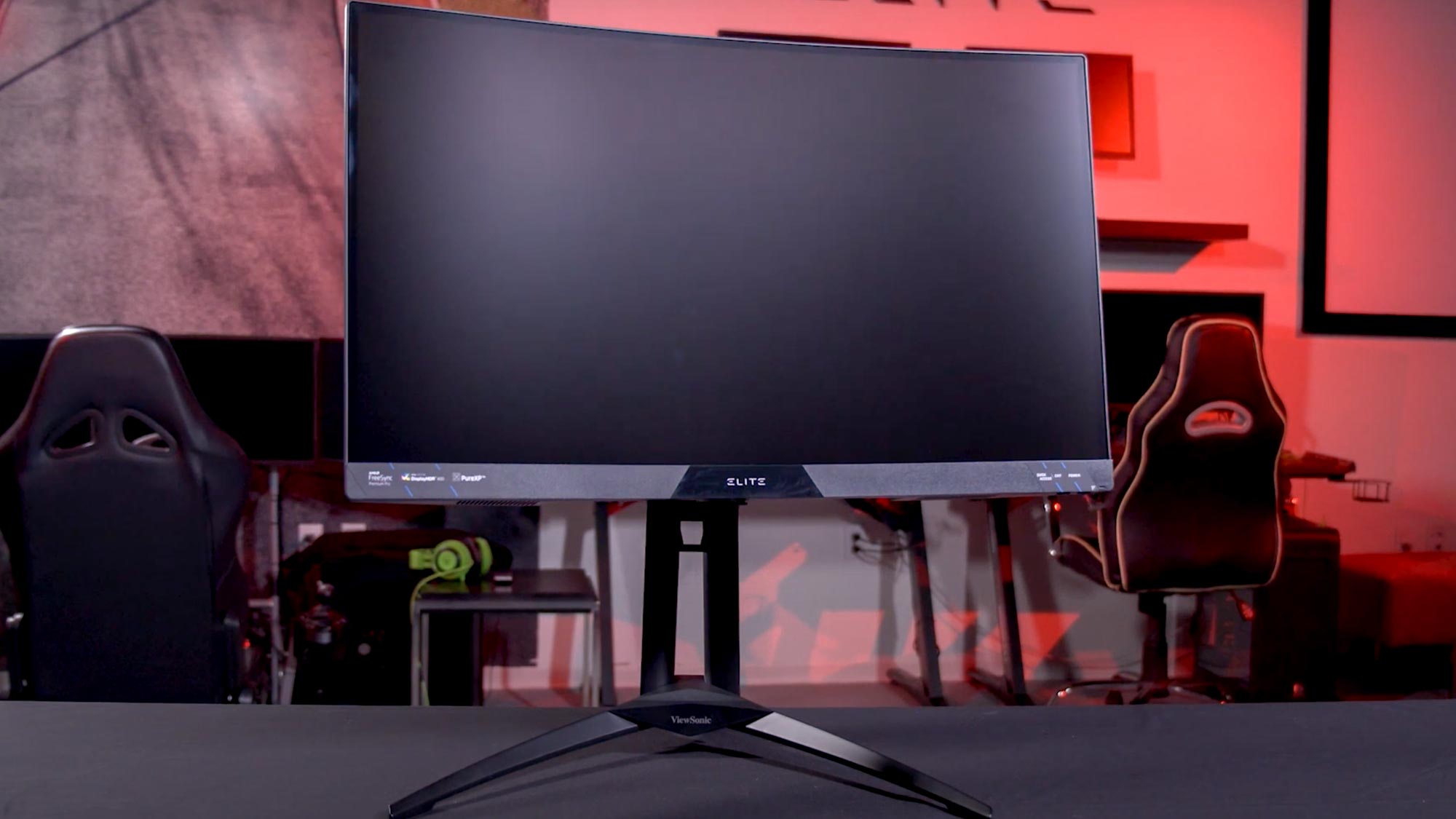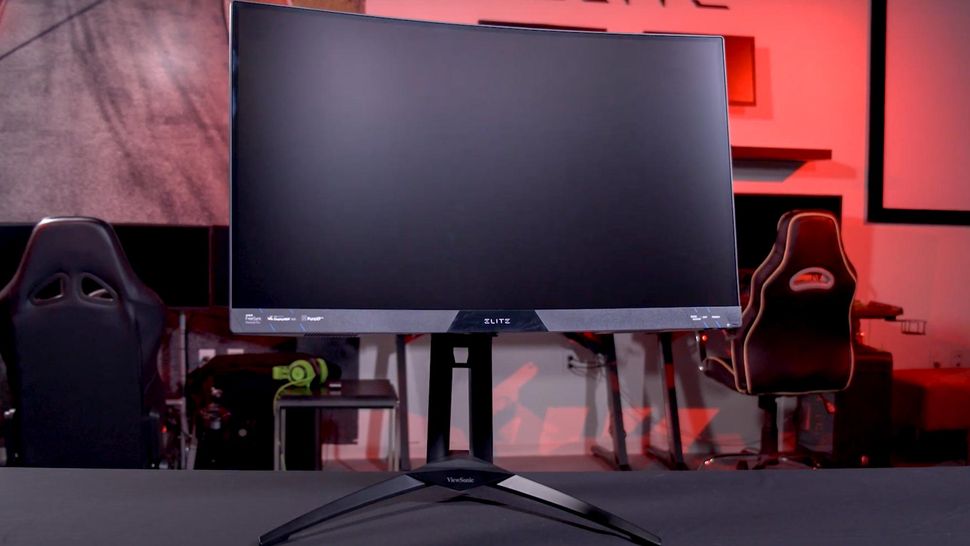 The ViewSonic Elite XG270QC is a large curved monitor with an extremely bright screen. While it will take up a lot of your desk space with its tasteful triangular base, the tradeoff is well worth it. You get a vibrantly colored 27-inch 1440p screen, with a refresh rate of 165 Hz. For gamers with powerful GPUs, this means quad HD gaming with the potential for more than 100 frames per second in each game.
Aside from the XG270QC's price and size, there's very little to recommend against. It has comprehensive menu options, plenty of ports and a variety of handy presets for many different types of games and applications. Whether you need to play the latest games or enjoy a large library of streaming media, the XG270QC's bright, bold, beautiful screen is the right tool for the job.
Read our full ViewSonic Elite XG270QC review.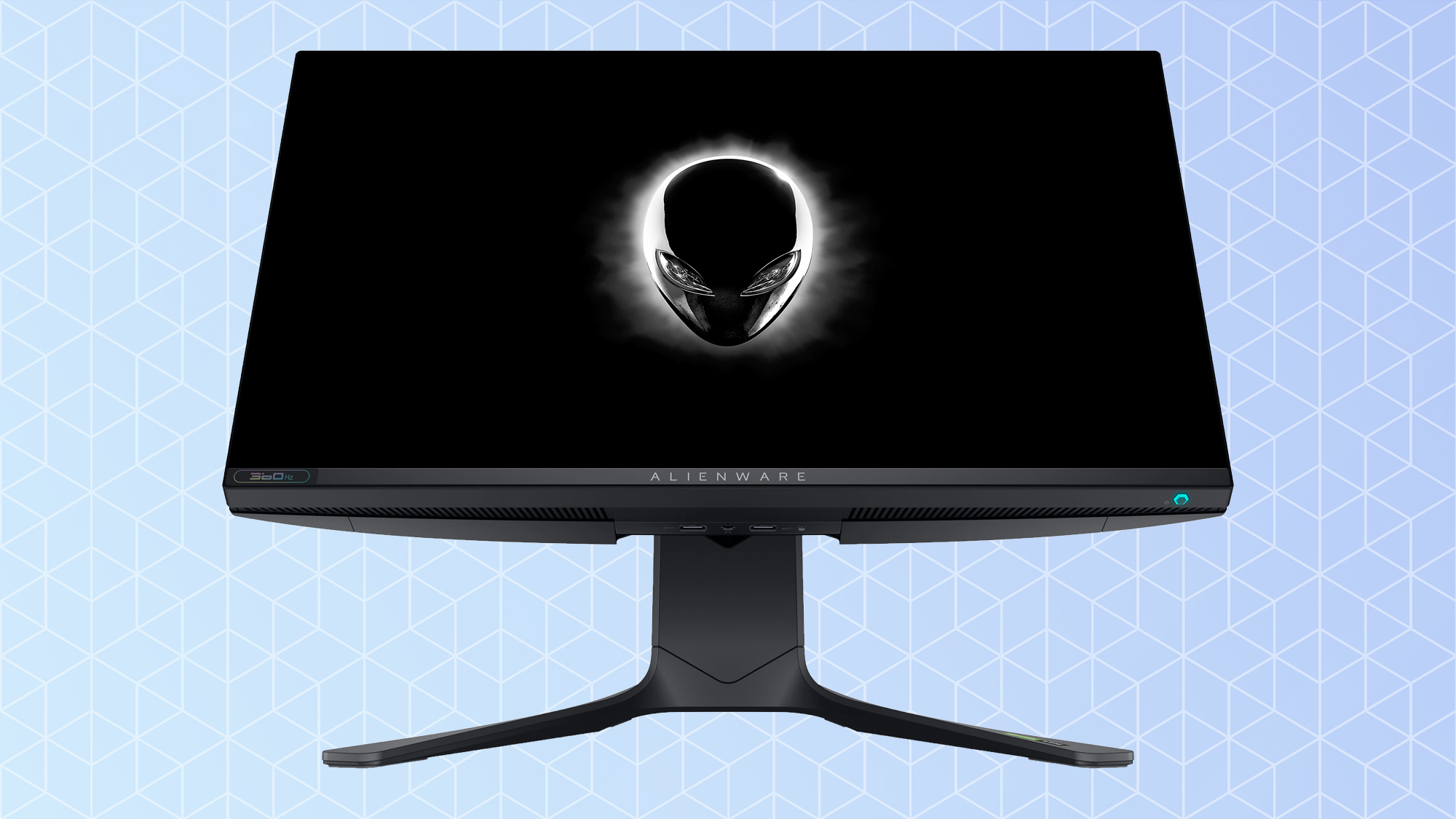 The Alienware 25 Gaming Monitor AW2521H has the fastest refresh rate of any gaming monitor we've reviewed, at a blistering 360 Hz. If you have an extremely powerful gaming PC, this means that you could very feasibly run games at frame rates exceeding 300 frames per second. Aside from that, the AW2521H also features a bright, colorful screen, and a design that's pleasantly futuristic.
There are only two major downsides to the AW2521H: its high price, and the fact that its resolution maxes out at 1080p. Most modern PCs, whether you build or buy them, can run games in at least QHD resolutions, with fairly high frame rates. But if you want the fastest frame rate possible, for esports or other competitive multiplayer games, the AW2521H can and will deliver it.
Read our full Alienware 25 Gaming Monitor AW2521H review.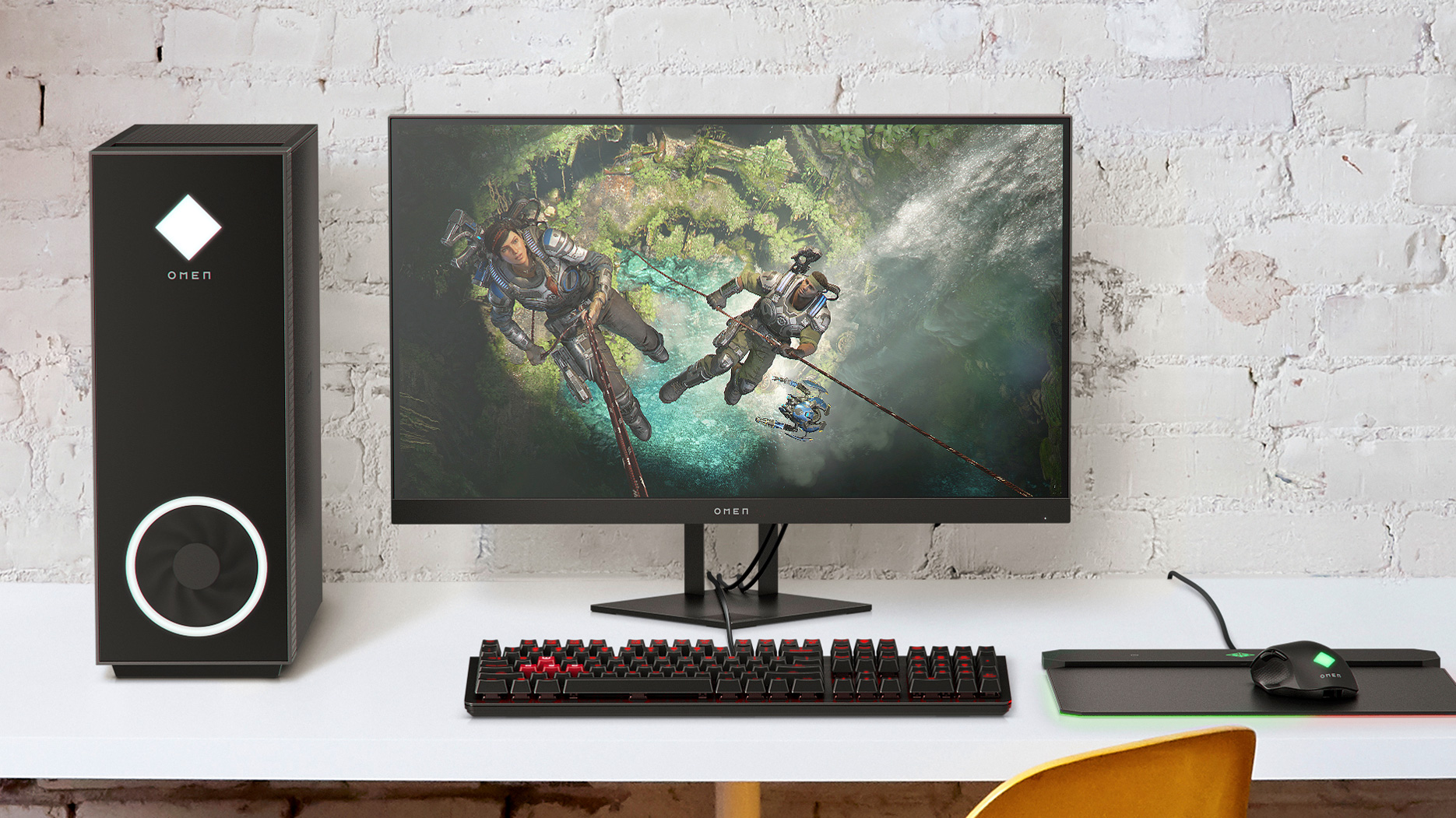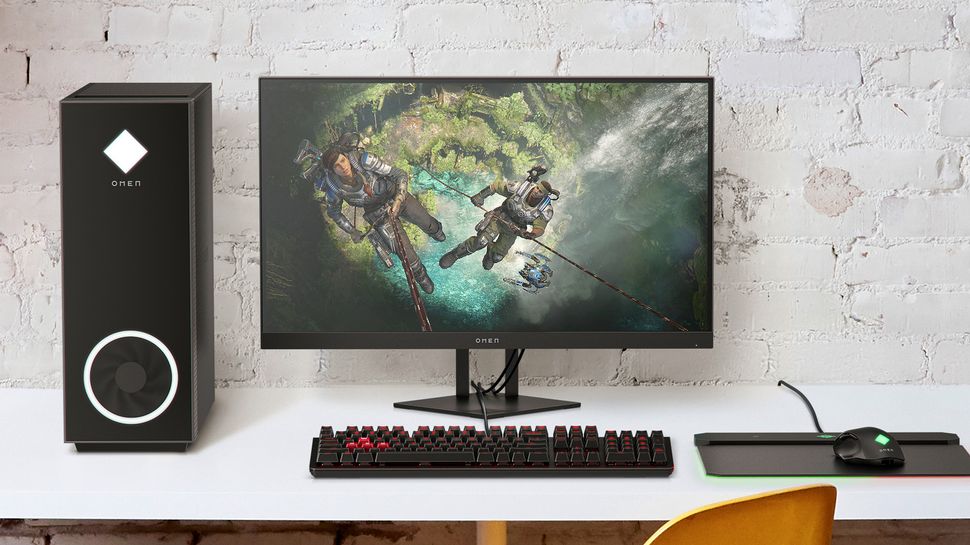 The HP Omen 27i is, in many ways, a perfect midpoint. Its quad HD screen is the perfect midpoint between full HD and UHD; its 165 Hz refresh rate is a perfect midpoint between 60 Hz and 240 Hz; its design is the perfect midpoint between a gamer aesthetic and a more subdued productivity model. For the gaming crowd, the Omen 27i offers fluid frame rates; for graphic designers, the monitor offers accurate colors. It's an elegant, functional monitor that's equally at home playing the latest games or editing a photo roundup.
Bear in mind that the HP Omen 27i is pretty expensive, as flatscreen quad HD monitors go, and its profile software can get a little glitchy. Otherwise, though, there's a lot to like in its straightforward design, high-resolution screen and excellent gaming capabilities.
Read our full HP Omen 27i impressions.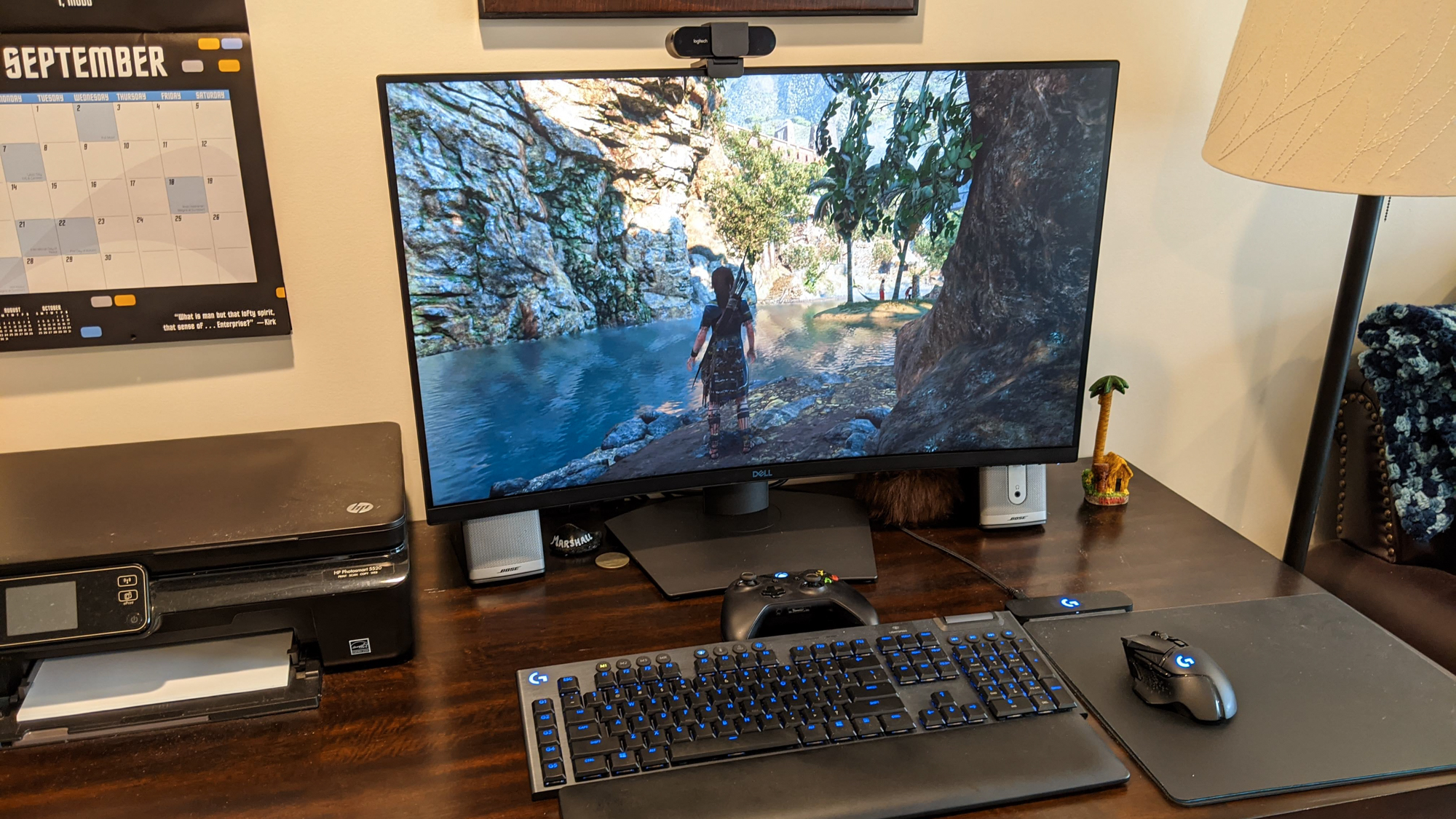 The Dell S3220DGF Gaming Monitor is enormous — and if you're in the market for a 32-inch gaming monitor, that's a good thing. This massive curved model features an extremely bright screen, fantastic color accuracy and support for HDR. TV shows and movies look good, but games look absolutely gorgeous — particularly action and adventure games with rich color palettes The curved screen makes most titles feel more immersive, and there are lots of pretty presets for your preferred genres.
Just bear in mind that even as 32-inch monitors go, the Dell S3220DGF is both large and heavy, so you'll need a strong desk to support it. The monitor's size and brightness also make productivity work fairly difficult, making this a gaming model first and foremost. But it's easy to set up, provided you can lift it.
Read our full Dell S3220DGF Gaming Monitor review.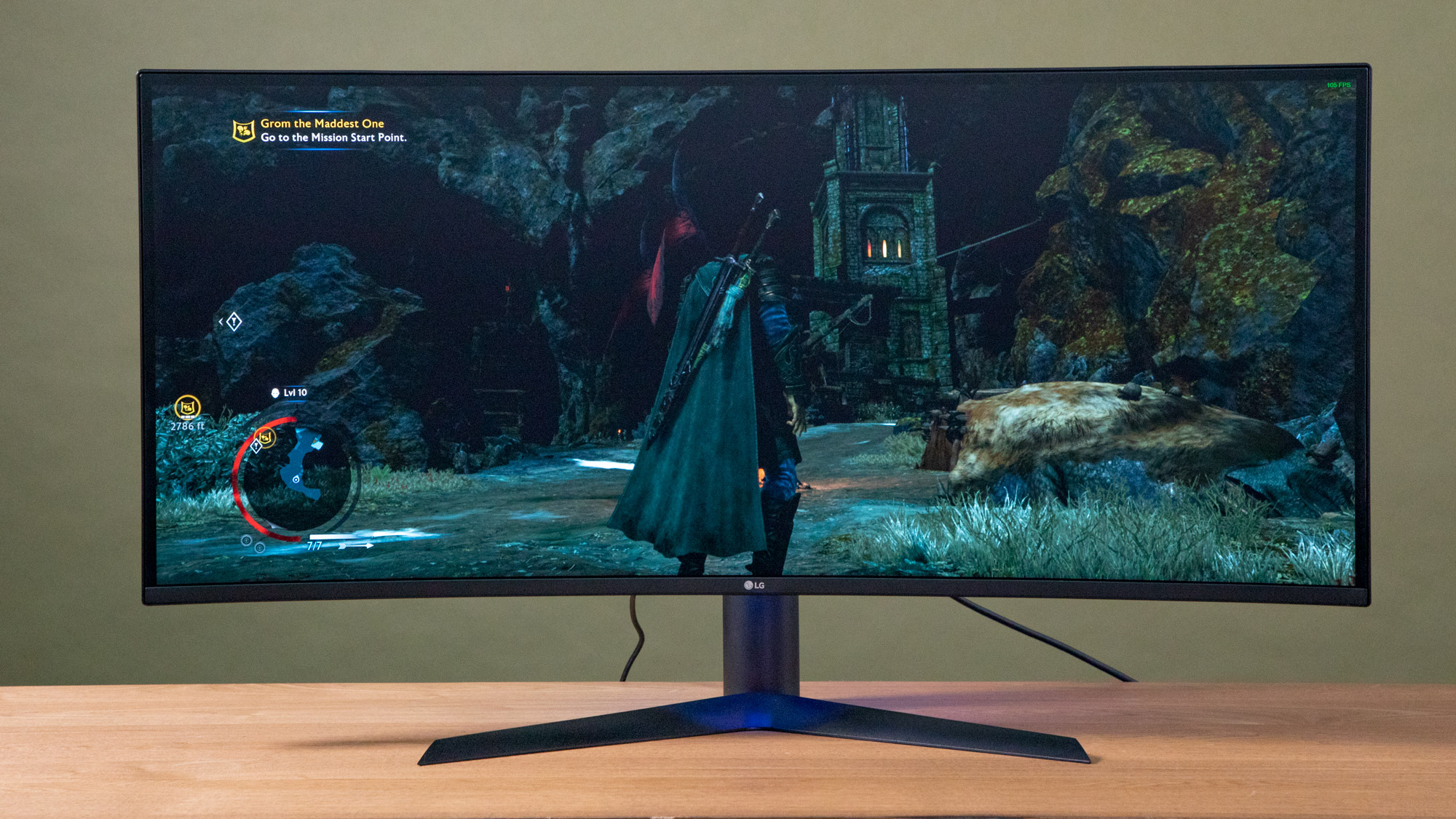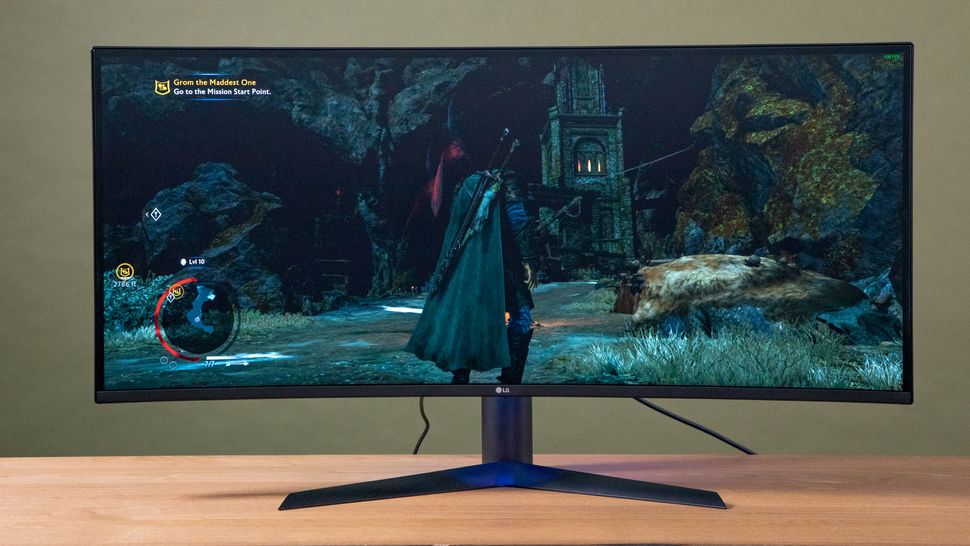 The LG 38GL950 delivers a kitchen sink of great features for folks willing to pay a premium price. This 36-inch, 3840 x 1600 curved display is incredibly immersive for cinematic games, and features Nvidia G-Sync and a speedy 144Hz refresh rate for keeping things smooth during more competitive titles. The monitor doesn't reach full 4K resolution, but quad-HD should suffice for most people, especially those with cheaper PCs.
LG's ultrawide display also sports a rear-facing ring of customizable RGB lighting, which is ideal for adding some ambient mood lighting to your command center. The 38GL950 is a breeze to set up, and delivered great brightness and color both in real world use and on our lab tests. LG's ultrawide monitor is very pricey, and we wish it had USB-C, but this is a great premium display for folks seeking maximum immersion.
Read our full LG 38GL950G review.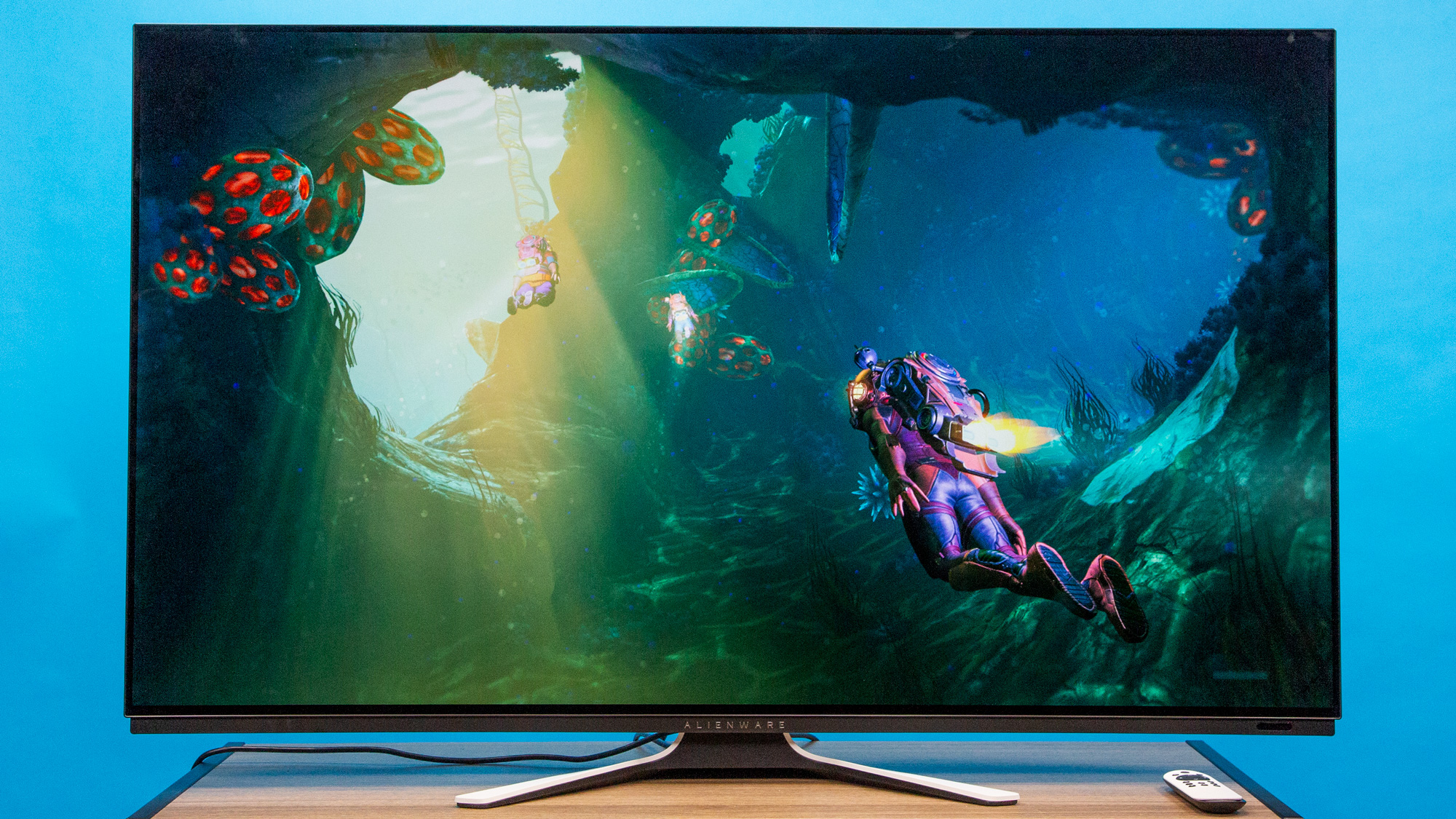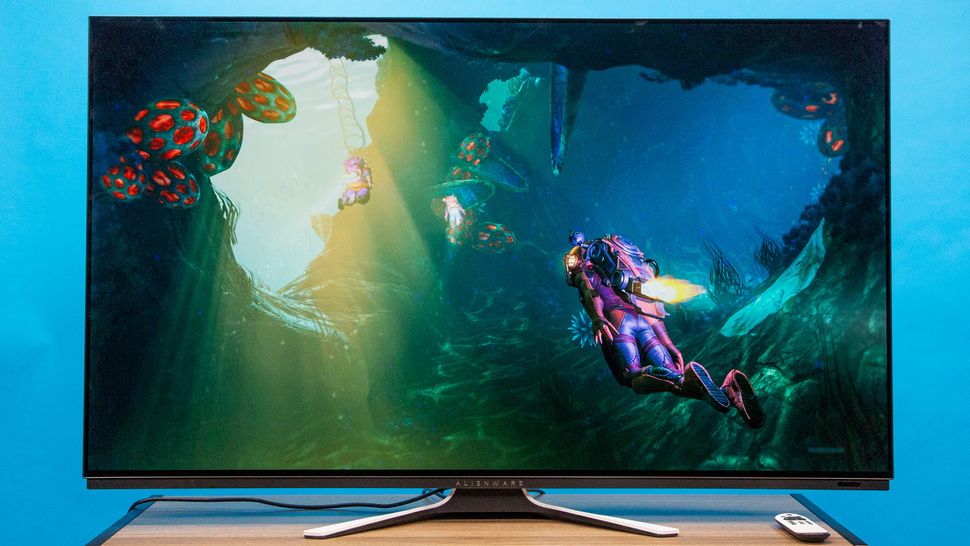 The Alienware AW5520QF 55-inch is the best gaming monitor and big-screen TV in one device — for folks willing to spend about $4,000. This humongous OLED screen gives you the best of both worlds, delivering the size and picture quality of a 55-inch 4K TV alongside key gaming monitor features such as DisplayPort connectivity and fast 120Hz refresh rates. Hook it up to a console, or a living room PC, or both.
The AW5520QF's high price tag may scare off folks on a budget, but if you do your PC gaming in the living room or want a premium monitor that can double as a great TV, Alienware's mammoth screen is uniquely qualified to do the job. Remember: A computer can stream almost anything, so you'll be able to watch, listen to or play whatever you want.
Read our full Alienware AW5520QF review.
How to choose the best gaming monitor for you
Determining the best gaming monitor for your needs comes down to three major factors: resolution, refresh rate and price.
How much resolution you need depends on how powerful your PC is. Extremely powerful machines can run games at 4K resolutions (3840 x 2160 pixels), which means you'll probably want to pony up for a more elaborate monitor. Cheaper machines pair better with 1080p monitors, while those in-between can run at quad-HD resolutions.
Refresh rate is similar, in that more powerful machines will need monitors with higher refresh rates. While refresh rate and frames per second are not exactly the same thing, it's useful to think of them in the same terms when choosing a monitor. Is your PC powerful enough to get 60 frames per second during gameplay? 120 frames per second? More? The higher the refresh rate, the higher number of frames per second the monitor can support.
Price is pretty self-explanatory. Just remember that more expensive monitors will be useful for longer periods of time. A good screen can last for a decade or more, and if you decide to buy or build a new machine in the future, you may not need to replace a monitor that's sufficiently advanced.
How we test gaming monitors
To test our best gaming monitors, we employ a colorimeter and benchmarking software to measure a monitor's color accuracy, contrast and brightness. A monitor's brightness refers to how many nits of luminosity it can output; its color accuracy (or Delta-E) measures how lifelike its colors are; its color gamut represents how great a variety of the spectrum it can display. We can also measure a monitor's latency, and try to push it to its limits in terms of game frame rates.
Qualitatively, we run each monitor through both productivity and gaming tests. You're not going to switch monitors each time you need to open a word processor, watch a video or send an e-mail, so every monitor on this list must be sharp and responsive for everyday use. As far as gaming goes, we run each monitor through games in a variety of genres, including FPS, RTS, MOBA, RPG and MMO, in order to ensure that it doesn't favor one genre at another's expense.
For all the latest Technology News Click Here 
 For the latest news and updates, follow us on Google News. 
Denial of responsibility!
TechNewsBoy.com
is an automatic aggregator around the global media. All the content are available free on Internet. We have just arranged it in one platform for educational purpose only. In each content, the hyperlink to the primary source is specified. All trademarks belong to their rightful owners, all materials to their authors. If you are the owner of the content and do not want us to publish your materials on our website, please contact us by
email – 

[email protected]
. The content will be deleted within 24 hours.